De Groene Welle – the best way to a green future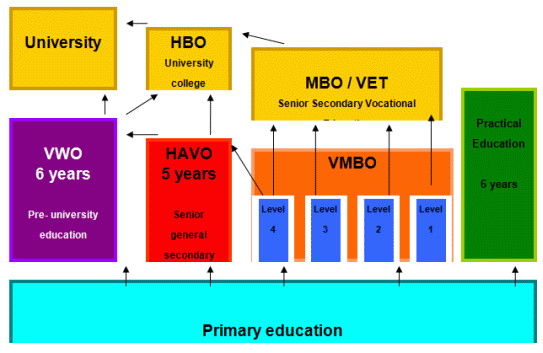 De Groene Welle is an agricultural training centre that incorporates all levels of pre-vocational education, senior secondary vocational education – including apprenticeship training (VET) – and adult vocational education (Lifelong Learning). They also develop various international activities.
De Groene Welle is situated in the central area of the Netherlands at two sites: one at Zwolle and one at Hardenberg. In total, they have approximately 1700 students. Within the framework of Lifelong Learning about 1600 adults follow one of the several courses offered each year. De Groene Welle has 185 employees.
De Groene Welle provides education in an innovative, creative and enterprising way, putting students first. They offer contemporary training courses that closely reflect the chosen future occupation, further education options and society. Their relationship with the business community means they are acutely aware of occupational practices and coming developments. Students benefit from this during their training. They try to take account of everyone's requirements, allowing students to create their own future. Individual development is key, students themselves being responsible for the results. At De Groene Welle, the students learn and work with other involved people who treat each other with openness, honesty and respect.
Pre-vocational education (VMBO) is intended for secondary school pupils (age 12 - 16) who have completed their primary education. A VMBO course lasts four years, with a pupil at De Groene Welle having the choice between four different courses of study: a Pre-Vocational Basic Programme; a Pre-Vocational Middle Management Programme; a Combined Programme; or a Theoretical Programme.
In the first two years of a VMBO course, pupils follow the basic curriculum, i.e. a more general education. In the last two years, pupils receive additional vocational orientation within a particular sector. Theory and practice are closely linked.
De Groene Welle's green VMBO offers multifaceted education in familiar surroundings with plants and animals. The wide range of subjects allows pupils to move on to senior secondary vocational education with ease. Pupils are largely free of homework and are taught using enjoyable practical assignments. Practical activity is the key aim. The green VMBO equips pupils for a varied future career.
After completing VMBO at the age of around 16, students can go on to senior secondary vocational education. De Groene Welle offers green Vocational Educational Training - VET (MBO) courses in two 2 pathways of study at 4 levels.
They have classified their VET courses into worlds. Each world offers attractive career prospects or options for further education, and for personal development and social success. They provide courses in the following worlds: Dynamic Design, Outdoor Life, Animal Friends, Good Food, Surprising Nature, Mighty Machines, Natural Health and Big Business.
De Groene Welle offers senior secondary vocational education (VET) for the agronomy/plant husbandry, floristry, landscaping and maintenance, land and nature redevelopment and conservation, forest and nature management, land development, environmental control, maintenance of and managing recreation areas, animal husbandry, animal care and veterinary support, horse management and equestrian sports.
There are two different pathways of study: fulltime vocational training / school-based education (BOL) and apprenticeship training / work-based education (BBL).
BOL entails pupils attending school four days a week, and following a work placement one day a week. BBL, on the other hand, entails pupils working four days a week and attending school one day a week.
Levels according to the European qualification framework
the qualification structure for VET comprises four levels of training:
Level 1: Courses at the level of assistant craftsman equip students to perform simple executive tasks. These courses are intended for those who are not able to obtain a basic qualification (level 2), but can obtain a certificate nonetheless.
Level 2 (2 years): Basic vocational training at the level of junior craftsman prepares students to perform executive tasks at a slightly higher level. The diploma awarded at this level is equivalent to a basic qualification, which is the minimum that everyone should have.
Level 3 (3 years): Holders of a professional training diploma at the level of a self-reliant craftsman are able to carry out tasks completely independently. They must also be able to account for their actions to colleagues and monitor and supervise the application of standard procedures by others.
Level 4 (4 years): middle management or specialist training at the level of executive / foreman prepares students to carry out tasks completely independently, combined with the ability to perform a broad range of tasks or specialise in a particular world. Students must also demonstrate that they possess non-job-specific skills, such as tactical and strategic thinking, and can expect to take up posts in which they have hierarchical, formal and organisational responsibilities.

Within the world of Dynamic Design the Groene Welle offers i.e. an education to become a florist on level 2 and 3; an education to become a florist / entrepreneur retail business on level 4; an education to become a lifestyle designer on level 4 (i.e. stylist or project manager of floral exhibitions and exposures, stylist or project manager decorating theatres, events or foyers / lobbies / halls of enterprises and buildings or interior designer); an education to become a specialist in floristry on level 4, an education to become a technical master in floristry.
Adult education / Lifelong Learning is accessible for adults from the age of 18 onwards, and offers various programmes for their development. Lifelong Learning is essential in a society that is in constant flux. What is up-to-date today is old hat tomorrow. Developments follow in quick succession, and innovation, sustainability and continuity are becoming increasingly important. Learning throughout your life is the key principle.

De Groene Welle plays an important role in this learning process. They realise that investing in know-how is a key factor in the betterment of our services. Or staying up-to-date in their specialist field, or increasing our growth potential. For these reasons, they offer individuals; employers and employees in the green sector various (BBL) training courses and custom curricula. The content is always practical, up-to-date and future-oriented.
Businesses are always involved in the content of their courses. By working together and listening to each other, de Groene Welle is better able to fine-tune their training courses to the requirements of their students. Discovering, developing and utilizing talent together so that everyone is able to achieve their full potential. Setting to work with talent!
Besides a great variety of courses in landscaping and maintenance, in animal husbandry or land and nature redevelopment for many years de Groene Welle has provided courses in the field of horticulture for florists, growers and wholesalers who want to expand their skills and knowledge. Both contents and organization of courses are tailor made. A trainer of de Groene Welle can come to companies to give the course as well as they can organize the course in the college. All courses include theory and practical topics, which are examined at the end of the course in order to obtain a certificate. Basic, advanced and master courses also belong to their wide range of possibilities. De Groene Welle is licensed by the EFDA organisation to give florists the opportunity to obtain the certificates DFA1, DFA2, ADFA1 and ADFA2.
International programmes and activities play a key role in De Groene Welle and its educational services. Knowledge circulation on both a European and a global level is a foundational pillar of the institute. International activities are an integral part of the training courses provided by the institute.

Such activities can be divided into 5 distinct categories:
1) International work placement for students / student mobility
2) Lifelong Learning for co-workers / teacher exchange
3) International projects
4) International networks
5) Knowledge circulation between institutes all over Europe

De Groene Welle participates in different networks, like EUROPEA Netherlands (www.europea-nederland.nl), EUROPEA International (www.europea.org), the MELA Network, the VETTNET network (www.vettnet.com), FLORNET Transnational Network, GKC-PIN (www.gkc-pin.nl), Platform Internationalisation AOC's, consortium GA8, Coordinating Platform Internationalisation MBO Council, Thinking or Acting Green, Neth-ER in Brussels and Platform G3.
Besides these networks de Groene Welle has bilateral partnerships with colleges all over Europe, in Canada, the United States, Korea and Japan.
To facilitate carrying out its international activities, De Groene Welle has over 70 international partners.

De Groene Welle is open to all kinds of international activities, as long as they reflect the best interests of society, associated branch organisations and students, and also of the co-workers of institutes with which De Groene Welle co-operates.