The school system in Norway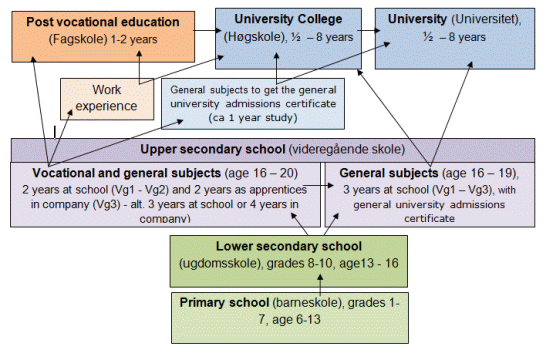 The Norwegian school system can be divided into three parts: Primary school (Barneskole, age 6-13), Lower secondary school (Ungdomsskole, age 13-16), and Upper secondary school (Videregående skole, age 16-19). Primary and lower secondary school are mandatory for all children aged 6–16.
Primary school (Barneskole, grades 1–7, age 6–13)
In the first year of primary school, the students are mostly playing educational games, learning social structures, learning the alphabet, basic addition and subtraction, and basic English skills. In grades 2 through 7 (years 2–8), they are introduced to maths, English, Norwegian, science, religion, esthetics and gymnastics, complemented by geography, history, and social studies in the fifth grade. No official grades are given at this level, however, the teacher often writes a comment–analysis and sometimes an unofficial grade on tests. Tests are to be taken home and shown to parents. They also have an introductory test to let teacher know if the student is above the grade average or is in need of some assistance at school.
Lower secondary school (Ungdomsskole, grades 8-10, age 13-16)
When the students enter lower secondary school, at age 12 or 13, they begin getting grades for their work. The grades they get will determine whether they get accepted at their high school of choice or not. From the eighth grade, the students can choose one elective subject (valgfag). Typical subjects the students are offered are the languages German, Frensch and Spanish as well as additional English and Norwegian studies.
A student may take the Grade 10 exam in a particular subject however early as long as he or she has been granted an exemption from further instruction in the elementary/middle school curriculum of that subject.
Upper secondary school (Videregående skole, grades Vg1-Vg3, age 16-19)
Upper secondary school (akin to high school) is 3 years of optional schooling, although recent changes to society (few jobs available for the age group) and law (government required by law of 1994 to offer secondary schooling in one form or another to everyone between 16 and 18 who submit the application form) has made it largely unavoidable in practice.
Prior to 1994 there were three branches of upper secondary schooling: "General" (language, history etc.), "mercantile" (accounting etc.) and "vocational" (electronics, carpentry, floristry etc.) studies. The high school reform of 1994 (Reform 94) merged these branches into a single system. Among the goals of the reform was that everybody should have a certain amount of general studies, large enough to make them eligible for higher education later, and it should be possible to cross over from one education path to another without losing too much credit.
Since the introduction of the reform Kunnskapsløftet 2006 (the knowledge promotion), a student will apply for a general studies (studie-spesialisering) or a vocational studies (yrkesfag) path. By following the vocatinoal studies you can take one year with general studies to get a general university admissions certificate (generell studiekompetanse) to be able to start on a University college or University.
Higher education
Higher education is beyond upper secondary school, and normally lasts 3 years or more. To be accepted to most higher education you must have attained a general university admissions certificate (generell studiekompetanse). This can be achieved by taking general studies while in upper secondary school or through the law of 23/5 where a person must be above 23 years of age, have 5 years of combined schooling and work experience and have passed exams in Norwegian, mathematics, natural sciences, English and social studies. Some degrees also require special electives in second and third grade (e.g. maths and physics for engineering studies.)
Higher education is broadly divided into:
Universities which concentrate on theoretical subjects (arts, humanities, natural science). Supplies bachelor (3 yrs), master (5 yrs) and PhD (8 yrs) titles. Universities also run a number of professional studies, including law, medicine, dentistry, pharmacy and psychology, but these are generally separate departments.
University College (høyskole), which supply a wide range of educational choices, including university bachelor degrees, engineering degrees, professional vocations like teacher and nurse, and master degree. The grade system is the same as it is for universities.
Blomsterdekoratørfagets opplæringskontor BLOK
"Blomsterdekoratørfagets opplæringskontor BLOK" in Oslo is a florist apprentices learning centre established in spring 1997. The number of 95 flower shops owns the institution and it is run by an elected board. BLOK is receiving financial support both from the ownership and the public.

BLOK is a coordinating instrument for companies, apprentices and official education offices, colleges and University Colleges. BLOK has contracts with 100 apprentices (Vg3 level) in Oslo and surroundings (Oslo, Akershus, Vestfold, Østfold, Buskerud, Hedmark og Oppland), Bergen and surroundings (Hordaland), Kristiansand and surroundings (Vest Agder).

BLOK has high competence within floristry, pedagogic and vocational didactics, and has the official educational responsibility for the apprentices. BLOK provides safety for the apprentices and member shops through information, tutorial guidance on their working place and occupational courses. BLOK creates solidarity between apprentices and companies cross county borders in Norway.

BLOK also arranges education courses for adults on Vg2 and Vg3 level, and several courses for the trade (life long learning).